When choosing a helmet you have to take into account five criteria, in the correct order: safety, fit, comfort, functionality and design. Also, plays often the price, and this is usually the sixth criterion for customers. This criterion is often overstated or misjudged. Imagine that you buy a helmet three hundred euros and can wear it for five years. That's three hundred euros divided by 260 days, i.e., 1.15 euros per week. Well invested money for your safety on the best modular helmet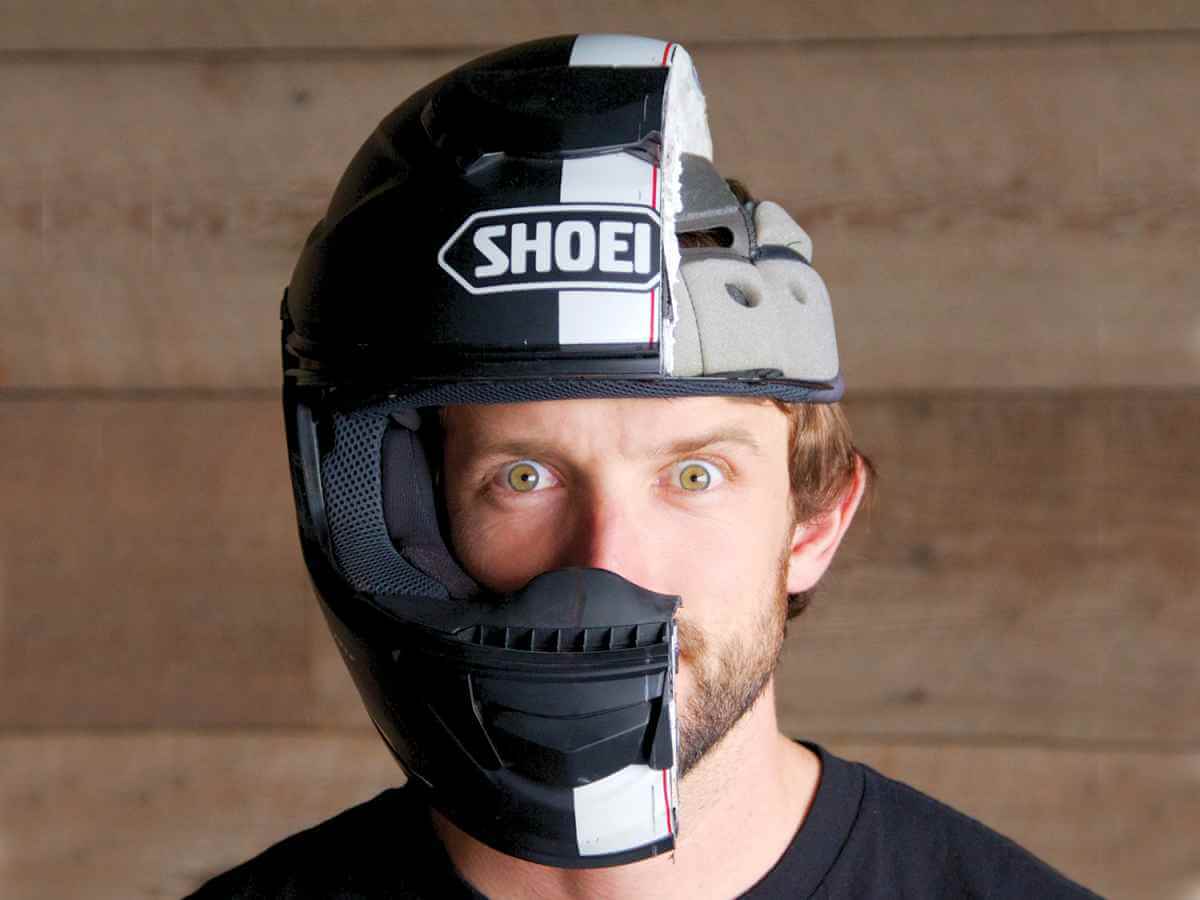 1 = full face helmet
2 = folding helmet
3 = cross helmet
4 = jet helmet
However, the choice is not easy. The helmet fits you depends among other things on the purpose you intended it. Provide the greatest protection to the so-called full-face helmet. It has no special chin guard, but chin guard and header are integral and running seamlessly. Also, modern folding helmets, with the chin section by a hinge can be opened upwards, are popular. They are often worn by eyeglass wearers as they facilitate donning and doffing of the glasses. Also occasionally unfold your chin section at a stop to get some fresh air.
For a little cooler head in sporting activities such as off-road, there is the cross helmet. It comes without a visor, as a rule, so you need a matching goggles. The greater distance from the chin section up to the face let cold air blow in the helmet. For longer tours, especially on motorways and highways, the cross helmet is not the first choice.
Less protection a jet helmet, which is often used by cruisers, chopper, and scooter riders. Even if such a helmet requirement hallmark features, it provides only limited protection because your chin section is not protected. In recent years there have been new developments which are still afforded protection by a bracket.
Many helmet manufacturers use different helmet sizes outer shells of different sizes. Particularly for children offer helmets with a smaller outer shell a significant advantage. Not only by the reduced weight but also to relieve the neck muscles and comfort in the long run, because the lining is not extremely thick, making the fit be retained.
Legal requirements
There are sometimes misunderstandings about who does and who does not need to wear a helmet. Therefore, a review: on a moped and microcar with closed bodywork you have to wear a helmet. On a motorcycle, trike (with the exception of a trike with belts and open microcar with belts) and the engine shall indeed make compulsory, with the exception of the BMW C1, because it is subject to an exemption. C1 on which it shall be binding to wear a seat belt and that includes people in a microcar.
There are different types of helmets: full-face helmets, jet helmet system, and helmets. According to the law should all helmet types are supported, provided they are approved to the European ECE standard. Thus, in principle, a motorbike helmet may also be worn on the motor. Whether this is wise, one point two …
Since 1990 is enshrined in the law that a helmet must be properly fitted and needs to be confirmed in a proper manner. So, not too big and not too small helmet firmly with the chin strap.
By law, a helmet should be worn so if it is approved to European Standard ECE (Economic Commission for Europe). This committee tests the helmet on different parts. The ECE label marked ECE 22-05 (the highest test standard) can be found at the chinstrap or lining and ensures that the helmet has passed the test criteria. In the early eighties, the first mandatory inspection, the norm was 22-02, now 22-05 is used. The 22-05 is also set requirements on the clarity and strength of the visor. That should leave by at least fifty percent of light, even if it is tinted.
In Germany and some other countries, you can be held liable if you have had an accident while wearing a dark visor is not approved.
An older model (e.g., ECE 22-04) usually meets still the new standards. You can get him for this test with your dealer. A helmet with a so-called TÜV approval (Germany) meets more stringent requirements than those applicable to the Netherlands.
All manufacturers have tested their helmet by independent bodies such as the RIP. Besides shock damping, and dimensional stability tests also includes tests to see how a helmet acts as he rubs on the ground and a test for the strength of the chin strap to the required components.
That there is much difference in approved helmets, Sharp has proven. The Safety Helmet Assessment and Rating Programme has fifty-six of the most popular full-face helmets tested and classified. The SHARP tests appreciated different brands helmets with a score of one to five stars and shows that the relative safety helmets 70% can make a difference.
Jim Fitzpatrick: "In England came in 2006, five hundred and ninety-nine (599) motorcyclists killed. This relates to one percent of the total number of users, but a sad rate of nineteen percent as a result of accidental deaths. However, if all motorcyclists should wear the safest helmet could be saved annually fifty lives. That's why we started the SHARP project and today we proudly present the results of the investigation. Different helmets in various price ranges and suppliers have achieved a score of four and five stars, so everyone should be to find a helmet in a position for a good price with a high score. "
All helmets must meet certain minimum security requirements.
My name is Bradley Miller; I own a car and a motorcycle. My love for motorcycles is not new-found, I remember wanting to ride a motorbike since my childhood days. As soon as I could afford my own vehicle I bought a Triumph Street Triple 2011 made. I am from Austin, Texas and the weather is pleasant here for most time of the year.